an epic journey
on april 29, 2016, i left my home in San Francisco to find the freedom of the open road. with my trusty touring bicycle, a 2014 All City Space Horse, i boarded an Amtrak train headed for Seattle and began my Pacific Coast bicycling adventure. what follows is the highlights reel of that 30-day journey. i could not even begin to transmit the scope and experience of the trip in a blog post, or maybe even a book. rest assured more adventures were had than can be mentioned here! join me as i cover some broad themes of the trip – places, people, and of course, things.
trip overview & planning
i began thinking about biking down the pacific coast ever since my partner Dorian and i decided to move from Montréal to San Francisco in the summer of 2015. newly enamored with bicycle touring after some short east coast tours, i was excited to discover the west coast in an eco-friendly way. plus, i'd never even been to Oregon or most of the other parts of the tour!
i spent about a month hashing out my plans, gathering bicycle camping supplies, reading and re-reading the "bible" of this trip, Bicycling the Pacific Coast, and making a spreadsheet that outlined my itinerary for the entire trip. thinking i was underprepared, i may have overplanned. i met folks along the way who didn't have tents, who had only made the decision to go on the trip the night before, and who had not done any research and were in fact heading against the wind for most of the trip. there is no "right way" to do this trip and that is part of the fun of it! (though i really do advise you to head south instead of north).
places
places:nature
undoubtedly one of the goals of the trip was to be immersed in nature, experiencing it from the quiet whirr of my bicycle. part of the thrill was seeing the Pacific Ocean or its interconnected inland bodies of water, every single day: from Victoria's Inner Harbour, to Puget Sound to Lake Quinault in Washington, to the Columbia River's mouth at Astoria, OR, and every little bay between Brookings, OR and San Francisco's Golden Gate. much of the actual pacific coast is sparsely inhabited by humans, and the moments when Highway 1 truly twists along the edge between land and sea made for the best riding days. i was able to lose my thoughts in the expansiveness of the ocean. i was able to be at peace, able to forget the loud cars and trucks beside me, able to appreciate the power and beauty of the natural world.
the coastline along southern Oregon truly took my breath away. here was clear, almost turquoise-coloured water, studded with sea stacks, waves pounding into the beaches, birds flying overhead. the troubles and concerns of the so-called modern world often seemed very far way.
there is also a section of the trip where cyclists and cars on the main route head inland, to skirt around a section of California eerily called "the lost coast." (i met a few people who had biked it though!) following highway 101 you wind your way up into the mountains, following the Eel River at times, through stunningly beautiful, quiet, redwood forests. though not technically on the coast, these were some of my favourite days on the trip. seeing these ancient trees helps put a lot of things in perspective. they are much more patient than us less ephemeral creatures. they are not on their way to, or from, anywhere – there merely stay where they are, for as long as they live. and they reminded me that the "coast" is a broad term for an even broader interconnected set of ecosystems, where the moist air pushed by ocean currents creates the hospitable fog that envelops these beings every summer, providing much needed water and protection from the scorching sun; that these might trees sometimes become huge driftwood, fueling the beaches and their inhabitants with their decaying bodies.
the lowliest (physically at least) – but also the holiest – creatures that i saw were the dwellers of tide pools, forever caught in the push and pull of the moon and sea. my companion Jeannie (see below) and i explored these areas with relish, feeling lucky when we got to a beach at low tide. i saw starfish! sea anemones! hermit crabs! fragile creatures surviving in a harsh environment. with my astrological affinity for crabs (hi! i'm a cancer) and the ocean, i felt a lot of kinship for these little creatures, keeping them in my heart as i pedaled along.
places:towns
i spent the majority of my trip feeling like i was in the middle of nowhere. this was the goal, partially, to explore the areas off-the-beaten-path, to be immersed in nature, and i often felt years away from anyone i knew. at times this was painfully lonely, but mostly it was an exercise in surprise and adventure, and in reading the friendliness of strangers in strange towns. i also appreciated the stupidly silly names of some of these "frontier" towns, such as "Dunes City, OR," "Fourmile, OR" or towns such as "Sixes, OR" that had no clear origin at all.
when i asked some passerby what the deal with the sign for Langlois, OR was all about – "is it really world famous or is that just a joke?" they paused, and then laughed and said "yeah, exactly!" and then recommended we turn around a block and check out the extremely well stocked general store. (by the way it's pronounced "lang-loyse," which is a bit hard for my québécois head to get around).
places:(general) stores
at the end of the trip i concluded that i had probably been to every little general store on the entire coast between Vancouver and San Francisco. while that's a bit of a hyperbole, my love for these quirky small town gas-station-community-centre-deli-counters that stock almost everything and anything meant i stopped and checked out quite a few. plus i always was looking for a snack!
people
people:friends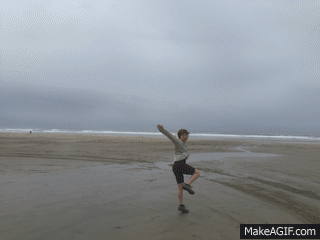 i was lucky to have the exceptionally wonderful company of Jeannie Yoon on this trip for 8 days of adventure on the Oregon coast. Jeannie and I have been friends since 2006, and though we were living in different places doing different things, we found out last winter that we were both planning a pacific coast bike tour for may or june 2016. thus, we decided to join forces and tackle those hills together! mostly we acted like kids, soaking up every moment of amusement from things we passed, making the stupidest jokes about the most mundane things, and motivated each other to eat hills for breakfast (and find coffee). i love you Jeannie, thank you for being there, and really being there.
people:strangers
one of the things i like about solo travel is meeting people along the way – people from all walks of life, whom you would have never met just going about your regular everyday life back home. a lot of the people i met were fellow bikers, as a touring bike loaded with bags is a real magnet for all the other freaks out there… i met forty-something dudes on their midlife crisis adventures (or just their regular, once-a-year adventures). i met a Swiss woman in Leggett who was travelling with her Warm Showers host (who had only decided to join her a few days prior). i met Yaris, a New Zealander on what sounded like an epic trip on many continents, who was obsessed with basketball and tried to catch the NBA finals in many of the small towns he passed through. i met Aaron and his friends who were just doing the "highlights" of the pacific coast south of Oregon (sometimes assisted by their friend in a truck).
in Eureka, CA i was happy to meet not only some gracious bike touring hosts who let me camp in their backyard (thanks David and Michele!) but some fellow Canadians from Vancouver, both named Mike, who were doing the same trip i was, albeit in a very nice Datsun.
and i met Arturo, a young Spaniard trying to soak up his last weeks in America before shipping back home after 5 years here. Arturo and I became fast friends and spent 4 days getting to know each other along the Washington (mostly coastal) route. thanks Arturo for the good times, good luck with your next adventures!
things:wild,weird,wonderful
America is full of such weird things. maybe this is one of the aspects i most like about this country: it is unabashedly proud to be itself, and the spirit of "freedom" means that people feel inspired to create and contribute to their surroundings, sometimes in hilarious and sometimes in solemn ways. you see a lot of stuff on the roads, too, that indicates people's reckless and non-compassionate freedom – i can't even count how much roadkill i saw, and sadly i contributed to it (so many slugs, snails and snakes get killed by vehicles). i managed to take pictures of some of the stuff, but you'll just have to take your own pacific coast bike trip to know the half of it.
a final note
one of the things i reflected on the most during this trip was the violent colonial forces that shaped and still shape the pacific coast today. seeing the land that up close, you are confronted with the reality that white settlers have only lived in these areas for maybe 200-500 years, and that all of these lands were taken forcibly from the native american populations that they really belong to. "historical markers" acknowledge these things to a certain extent, but i'm not sure how many people read them, and they are written by the settlers, us, and not by the people who died at their hands. we need more than acknowledgement anyway. we need a completely different relationship to each other, to the coast, and to our past.
what is it, to travel freely, my fears being misogyny and cars and not genocidal violence, through these areas? why does my face grant me access to these stolen lands? and – if we cannot undo the perils of the past, what can we do to restore justice to this earth, this Earth? a lot of the coast is public access, some of it is Indian reservation, and some of it (i'm looking at you, Searanch, CA) is completely private. the wild west really does live on – in private development, in logging and unregulated capitalism, in the pollution that taints these waters, in the tourism that says they are for sale.
interacting with the landscape in this way, on a human-powered bi-cycle, can create a profound shift in our relationship to it, and that this change has rippling effects on the habits and mindsets of all who travel this way. you start to really understand that you are part of this environment, an active member and not a passive observer, when you travel this way. we have to get outside of our cars, of our RVs, of our mindset of conquering and acquiring crap. listen to the surf instead, the wind in the trees, watch the hawks circling overhead. it's the only way to find what we're not looking for.